Ginjer Keeps You
Sweet Company!
To celebrate Ginjer as a cupcake specialty store, take advantage of our special cupcake promotion of buy- 5-get-1 free. Come by and pick your favorite cupcake flavors now!
Cupcake
Decorating Class

Starting November, book a cupcake decorating class with Ginjer. Purchase 36 cupcakes for a your class and enjoy the special price of NT$80 per cupcake.

During the month of your birthday, host a cupcake decorating party with 36 cupcakes and enjoy a special price of NT$50 per cupcake. (One time offer per person.)

It's fun, original, and a great choice for your birthday celebration!

Baking Classes
with Ginjer

Upon popular demand, Ginjer is offering baking classes in collaboration with Chiyun Living & Deco House. Learn American baking techniques and Chinese cooking skills.

Contact Chiyun Living & Deco House for more information: 02.8712.2334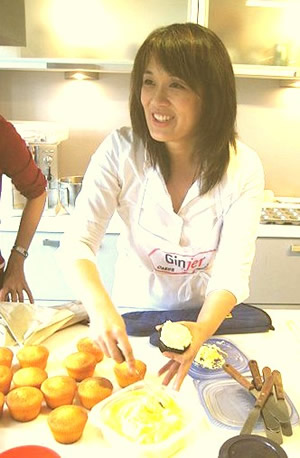 Store Hours
Monday to Saturday 12pm to 8pm

If you require pickup or delivery on the weekends, please call during store hours to coordinate.


Every Mon-Friday
From 12pm to 3pm
Get a free coffee with your cupcake!
November's Limited Edition Design:
Fashion Accessories and All Around the World
Can't get enough of fashion accessories, girls? How about seeing them on your cupcakes? Enjoy the design of the month with your afternoon tea and party celebrations.

Ginjer products blends American flavor with a European flair. What better to represent that than duo cupcakes of the Statue of Liberty and Eiffel Tower? Order soon while supplies last!

Fashionable and Orginal: The Enchanting Cupcake Tree

With the year-end wedding season in full swing, how are you planning your garden wedding? Why bother with the cake cutting ordeal when you can have cupcakes right at your fingertips?

It's time to consider a cupcake tree instead a wedding cake! Unique and special in presentation, cupcakes are easily distributed to guests. For the trendsetters out there, these special design cupcakes are available in store.


Unique Set-Up with Cupcake Stands

Show off the special design cupcakes with cupcake stands that attractively arrange these delicious desserts. Soon, you can place your order for cupcake stands with Ginjer. Each stand holds 23 cupcakes (NT$ 1200.) Contact us for more information.