Every Mon-Friday
From 12pm to 3pm
Get a free drink with your cupcake!





If you drop by after the cupcake happy hour, add NT$20 to your purchase of any cake product and you get a drink.


Cupcake
Decorating Class

Starting November, book a cupcake decorating class with Ginjer. Purchase 36 cupcakes for a your class and enjoy the special price of NT$80 per cupcake.

During the month of your birthday, host a cupcake decorating party with 36 cupcakes and enjoy
a special price of NT$50 per cupcake. (One time offer per person.)

It's fun, original, and a great choice for your birthday celebration!

Cupcake Stands for
Orders

Show off the special design cupcakes with cupcake stands that attractively arrange these delicious desserts. Soon, you can place your order for cupcake stands with Ginjer. Each stand holds 23 cupcakes (NT$ 1200.) Contact us for more information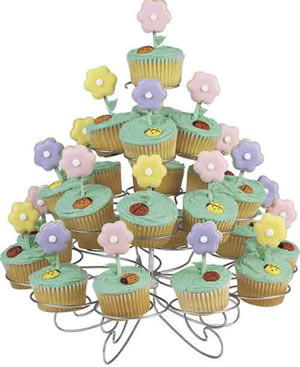 Store Hours
Monday to Saturday 12pm to 8pm

If you require pickup or delivery on the weekends, please call during store hours to coordinate.
April Surprise!


Instead of April Fool's, we have April Surprise. What's the filling in our cupcake? Yes, cupcakes can have filing too. For this month, our Ginjer Special cupcakes will have fillings, but we won't tell you what it is.

Drop by and try it—it will definitely satisfy your taste buds. These cupcakes will also be on special for NT$50 each.

Animals for Children's Day and Earth Day


This month's cupcake designs celebrates Children's Day on April 4 and Earth Day on April 22. Instead of our usual four designs, we are featuring some of our popular animals for Children's Day and Darth Day. Each of these lovely designs is NT$80 or get 4 cupcakes for NT$300.

Mom, I Love You!

Just a few simple words to let Mom know how important she is to you. So, our package for Mother's Day include 9 cupcakes arranged in a simple combination and cookies all for NT$800.

Free Delivery with Purchase of Ginjer Cupcakes

This month for Taipei City customers, we will deliver your cupcakes to you free with an order of 12 cupcakes or more. For customers outside of Taipei City, order 24 cupcakes or more for free delivery. Call us now at 8773-3061.

Freshly baked cookies at home!!!

You can purchase our frozen cookie dough and have freshly baked cookies to impress your guests. Available flavors include Chocolate Chip, Oatmeal Raisin, Lemon, and Gingerbread. They are NT150 each. Call us to order.